After being asked several times about my UI, I decided to list here every addon that compose it.

For every addon you'll find a curse or wowinterface link to download it, and a link to download my own config.
To install :
Close the game
Install the addon
Go to C:\Program Files\World of Warcraft\WTF\Account\"YOURACCOUNT"\SavedVariables
Delete the .lua file corresponding to the addon
Replace by the .lua included in the X - Setup.rar that you just downloaded
Restart the game
If the config is not on by itself look for it in the addons profiles (In general it will be Default, Tzensch@ysondre or Yliinia@outland)
Note : all configs are packed in this folder if you don't want to down them all separately.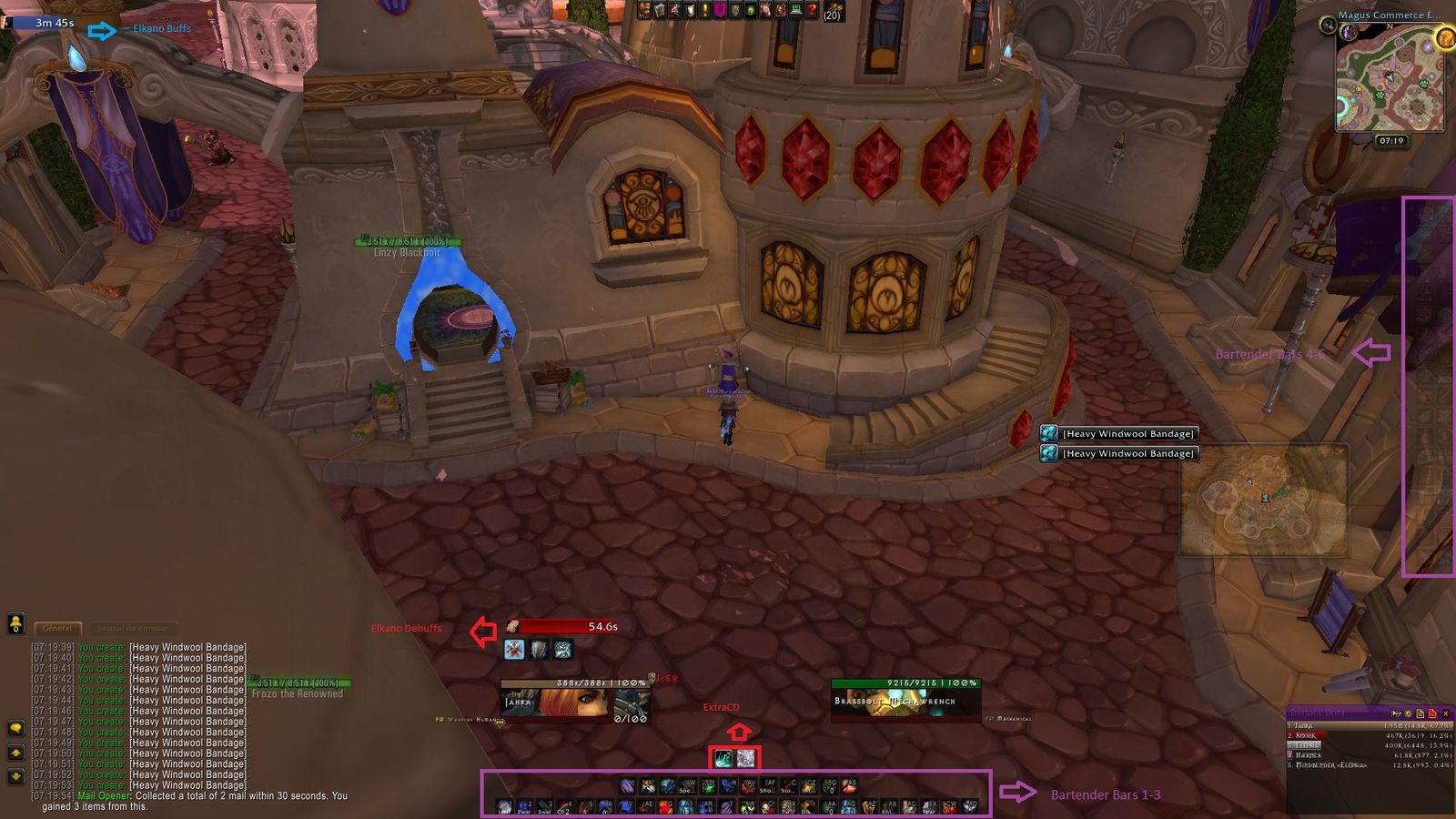 Utility :
Nameplates : Tidy plates (Config is not in the lua, I'm using Neon, you'll need to fix things a bit) : shows debuffs on nameplates.
Combat texts : SCT - Config : clearer than the default combat text and brings you more info.
Buffs & Debuffs : Elkano's Buff Bar - Config : I installed it to get a more efficient Ui to not have to nod my head every second since the default buff ui is on the top right angle. I also prefer the timer and looks of it.
Cooldowns - Config : Shows numeric values on skills.
Cast Bars : Quartz - Config : Cast bar configuration tool, get bigger cast bars or in a better spot, also includes a latency tester.
ExtraCD - Config : Show the icd for proc items.
Gladius - Config : Arena interface more complete than the default ui (Working 5.2 Version)
Battleground target : The gladius of battlegrounds, very useful in RBG's especially keep an eye on the whole enemy team.
Juked - Config : Similar to interruptbar, but includes most cds on top of interrupts.
Recount : records a lot of data like damage, healing, death logs and such, a very useful tool.
Tiptac - Config : replaces the panelyou get when scrolling on something, and shows some more data like buffs and class color.
Safequeue : removes the "Leave queue" button.
Necroticktrack (DK) : Show the total amount of your necrotics on a target.
Extras :
WIM : Separate windows for PMs like IM clients.
Prat : upgraded chat.
Addon control panel (ACP) : allows you to load any addon in game, you can also make loadable addon packs.
Titan Panel : Many extras like the serverwide gold count, WG / Tol Barad Timers, you can centralize all addon icons (usually those are next to the minimap).
Reforgelite : oprimizes your reforge following a priority system defined by either you or predetermined profiles.
DBM : The pvp mode makes you instantly release spirit and shows cap timers, bases required to win and other useful infos.
Questions :
For any question you can contact me through my stream (link on your right).