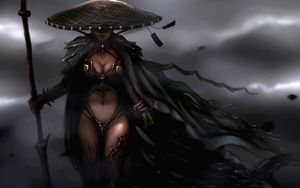 Big changes for warrior, as some legacy gameplay gets completely removed, in the form of shield requirements.
Here for the warrior notes :
General
Enrage now also triggers on critical hits from Devastate and Shield Slam.
Shattering Throw no longer costs rage.
Talents
Enraged Regeneration now instantly heals the warrior for 10% of their total health (up from 5%), and an additional 10% over 5 seconds (up from 5%).
Vigilance no longer transfers damage to the Warrior. The talent now reduces amount of damage the target takes by 30% for 12 seconds.
Arms
Slam now does an additional 10% damage to targets affected by the warrior's Colossus Smash.
Fury
Titan's Grip now works with polearms.
General
Blood and Thunder now also increases the damage of Thunder Clap by 50%.
Hamstring is no longer on a global cooldown.
Riposte is a new passive ability learned at level 76. When the Warrior dodges or parries any attack, they gain 50% of their Parry and Dodge as an additional bonus to Critical Strike for 20 seconds.
Shield Wall no longer requires a shield. If the Warrior does not have a shield equipped, it will show a visual of an equipped shield.
Spell Reflection no longer requires a shield. If the Warrior does not have a shield equipped, it will show a visual of an equipped shield.
Talents
Impending Victory now heals the Warrior for 20% of their maximum health at all times (up from 15% on attack and 20% on kills that yield experience or honor).
Storm Bolt now also has an off-hand attack for Fury Warriors.
Warbringer now roots the target for 4 seconds instead of stunning them for 3 seconds. The 50% reduction to movement speed snare effect for 8 seconds remains unchanged. Glyph of Blitz will now cause Warbringer to root an additional 2 nearby targets.
Arms
Seasoned Soldier now also reduces the cost of Thunder Clap by 10 Rage.
Sweeping Strikes now causes melee attacks to strike an additional nearby target for 75% of the initial damage (up from 50%).
Protection
Ultimatum now activates from critical hits with Shield Slam instead of a flat 20% chance, and the ability will make the next Heroic Strike or Cleave be a critical hit in addition to costing no Rage.
At the moment those are big changes for arms warrior in PvP.
Shield Wall and Spell Reflect both no longer require a shield, that's a really big change, as this was the last mechanics requiring weapon swap, and it now won't.
Hamstring is out of the GCD, that's pretty awesome, you will no longer have a target escaping because of a global.
Warbringer changeis great, it means you can take Stormbolt or Shockwave without dring the stun, and keeping some utility, 4 sec root + 8 sec snare is pretty great for tunneling things down, the glyph update is really good too.
Shattering Throw : Well no more waiting or sitting around when a block or a bubble pops.

More damage with Slam when colossus smash is up.
More damage with Thunderclap (+50%), and it also costs less rage (-10).
Both talents on the second line have been upgraded. Enraged regeneration has been doubled, Impending victory has been upped by 5% from 15 to 20% health. Note that both are multiplied by PvP power, meaning +14% in current gear, but it's also reduced by battle fatigue.
Finally I really like the update on Sweeping Strike, I'm using it more when I've high rage, it's gonna be even more interesting.
Slam now does 35% of base damage as a cleave to nearby targets.
Small cleave / aoe dps buff.
Apparently Hamstring duration has been increased to 15 sec, but it now has a 1 sec cooldown. Don't know if the duration is gonna stand in pvp though.